Ballygunner 2-11 Mount Sion 0-8
Ballygunner is Waterford champion for the ninth consecutive season.
The All-Ireland Champions beat Mount Sion in Daisy's decision to equal the Abbey Men's and Irene's record of winning nine county titles in a row.
Stephen O'Keefe's two saves were superb for Arsenal, with first-half goals from Burek Mahoney and Peter Hogan proving crucial at Walsh Park.
The first half saw only nine points, but it wasn't for the lack of great opportunities and drama at the same time.
Mount Sion were playing in the cut-off for the first time since 2014, but it was Baligner's Borek Mahoney who scored the day's opening scoreline by three minutes with a fine shot from long range, a first from 1-02 in the first half. Former Captain Waterford.
The unpleasant orange weather warning conditions made it difficult to operate the free-flowing ejecta seen previously from both sides, as it became slow early on with a number of efforts cruising wide.
Mount Sion's extravagance was soon punished, as Mickey Mahoney found Desi Hutchinson in space, and a trademark corner-forward effort put the second gunner in their favour.
The first period was frustrating for the monastery men, and Evan Curran also shot wide after beating his No. 9 Buddy Levy – but the first real opportunity quickly presented itself, and golden at the time.
A stunning back pass into goal by Austin Gleeson cleared Owen Whelan, who slotted the ball into a dashing Jimmy Gleeson, but was stopped in his tracks by a lofty tackle from Barry Coghlan. This was followed by a yellow card as referee Thomas Walsh awarded a penalty.
Austin Gleeson went up against his former teammate Stephen O'Keefe – and it was the goalkeeper who had the last laugh, stopping off superbly with a seemingly sleuther heading into the upper left corner.
Gleeson modded somewhat when he netted his team's first score of the day at 16 minutes, firing superbly from his own half.
If this brought any joy to John Meaney's men, it was short – seconds later, they were catching the ball off the net.
O'Keeffe's pass went straight into the hands of Mikey Mahony who slashed toward goal, and slashed right to his brother Pauric who made no mistake at the near post.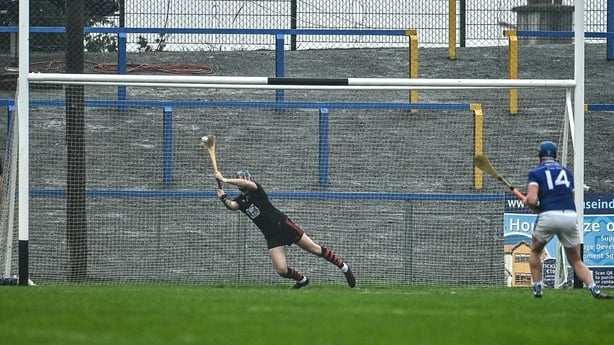 Two hits from Mickey Mahoney and Borek Mahoney added to Well Mount Sion, as Gleeson's freestyler sprinted unharmed to the O'Keeffe track shortly after.
He passed his third point and Mount Sion's point shortly after, but fell five points at the break, alarmingly without scoring from play in the first half.
JFK came in the first half to Mount Sion and was involved almost immediately as Paddy Leavy had hit him, allowing Gleeson to take his fourth for free in the afternoon.
The champions' resilience held up, with Mahoney putting them into the third freestyle two minutes after their five-minute lead, as the brand's side cuts weren't going to land in Gleeson's favour. Kevin Mahoney was brilliant all the time for the Gunners and his first point right flanked the boat out, with the champions winning all the important one-on-one battles.
Evan Curran scored Mount Sion's first result of play at 41 minutes, but they needed more as they were five minutes behind. Peter Hogan then added his name to the scorers with a fine effort, as the game seemed poised to adopt a familiar pattern.
Mount Sion wasn't ready to give up though, and they had a lead of four with fifteen left to play after recordings from Owen Whelan and Martin O'Neill.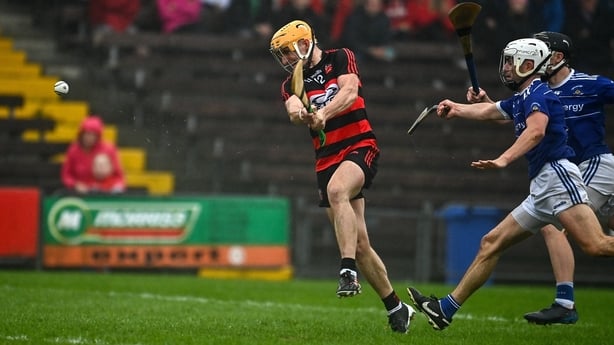 Billy O'Keefe was found in space to keep Arsenal on alert, and the substitute sent a message to his manager seconds later as Paligner showed off his strength.
An astonishing single run and score from Austin Gleeson made Mount Sion hold hope – but that was ruined at 51 minutes.
Peter Hogan was picked and ran behind Stephen Roach and PJ Fanning down the right wing, sending a resounding effort into the top left corner after rooting Iggy Origen to clear the champs eight times.
The fourth Freeman for Mahoney Mount Sion was suddenly trailing by nine, with the likes of Ian Kenny, Philip Mahoney and Ronan Power winning whatever came their way – and every time anything overtook them, they were saved by Man of the Match O' Keefe.
Ballygunner stuck to Waterford's 21st crown claim, extending Mount Sion's wait for the 36th county title to 2023.
paigner: Stephen O'Keeffe; Ian Kinney, Barry Coughlan, Tudge Foley; Shane O'Sullivan, Philip Mahoney, Ronan Bauer; Conor Sheehan, Paddy Levy; Desi Hutchinson (0-02), Mickey Mahoney (0-01), Peter Hogan (1-01); Patrick Fitzgerald, Kevin Mahoney (0-01), Borek Mahoney (1-04; 0-04f).
Subs: Billy O'Keeffe (0-02) for Patrick Fitzgerald (43); Tim O'Sullivan on Kevin Mahoney (59); Jake Foley for Borek Mahoney (59); Dara O'Keefe on Conor Sheehan (60); Barry O'Sullivan for Ronan Bauer (60)
Mount Seon: Ian O'Reagan; Mickey Daikin, Luke O'Brien, PJ Fanning; Martin F. O'Neill (0-01), Stephen O'Neill, Ben Flanagan; Stephen Roach, Evan Curran (0-01); Martin O'Neill, Owen Whelan (0-01), Alan Kirwan; Jack Minnie, Austin Gleeson (0-05; 0-04f), Jimmy Gleeson
Subs: JFK for Jack Mini (HT); Dylan Butler for Jimmy Gleeson (40); Peter Pinkert on Evan Curran (53); Donal Power Laban Flanagan (60)
Rule: Thomas Walsh (Modeljo)