Shamrock Rovers were the architects for their downfall as individual mistakes cost them dearly in a heavy away defeat to Belgium's KAA Gent.
It was a familiar story on the road for the Hoops as they left themselves with a lot to do as they trailed 2-0 in the space of 18 minutes and were criticized as they pushed to force a road back.
Rovers could consider an improved second-half display, but all the damage happened early on, just as it did in the away qualifying rounds against Ludogorets and Ferencvaros.
Hugo Kuipers and Vadis Ogeda's early goals left Steven Bradley's side ahead of it all, and captain Ogeda sealed the win with a stunning second-half strike.
Bradley would have been frustrated with the way each goal was conceded, the first of which arrived after just nine minutes.
He allowed striker Malik Fofana to drift between two defenders to assign a Qatari ball to Kuipers and checked it before firing a low shot past the defenseless Alan Manos.
Nine minutes later, another defensive howler saw Dan Cleary in possession of his box by the Quirs.
The Dreamnage man did a good job of preventing the striker from getting a long shot but the loose ball rebounded to Odjidja on the edge of the area and sent a stunning scissor kick into the top corner.
Rovers began to set foot on the ball and find space in the Gent half, and it was Coerce again, in his defensive third, who proved the curse of the Cleary half.
A quick corner kick saw Jack Byrne and Dylan Watts exchange two goals, the first cutting the ball to the back post, only for Kuipers to beat Cleary with a superb defensive header.
The visitors had plenty of ball but suffered from tireless pressure from Gent and the Belgians came close again just before halftime as Manos parried Jordan Torunariga's curved shot.
Watts scored Rovers' first attempt on target early in the second half, firing from 25 yards before Rory tested Gaffney Nardy with a powerful shot mid-turn.
Then Byrne painfully came close to finding the top corner with a skewed effort after Gaffney hit the beautiful Watts ball over the top.
Within a minute, the match ended as Fofana picked Odjadji, again unmarked on the edge of the penalty area, and fired a beautiful shot with the outside of his boot into the top corner.
Rovers kept making it and Lee Grace was inches away from communicating with Aaron Green's cross.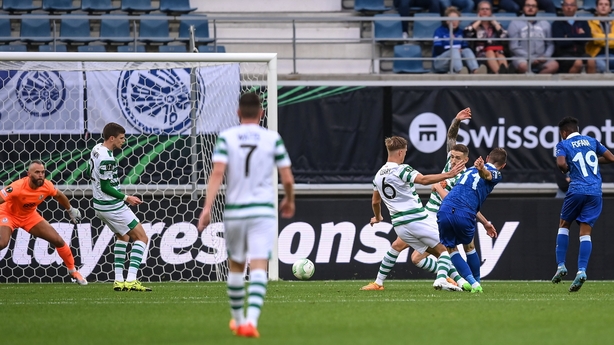 Gaffney was supposed to score after Gent goalkeeper Daniel Nardy inexplicably passed the ball to an injured defender and then Green picked up the loose ball.
He played the ball inside to Gaffney, but instead of going first with his left foot, he controlled and shot, giving the goalkeeper enough time to get out and make up with a low tackle.
A poor back pass from Eintracht Frankfurt midfielder on loan, Jens-Peter Haug, played in Justin Verizage, but his shot from a close angle was again blocked by the former Lorient stopper.
The visitors never gave up, but it was a reminder of the progression in class at the group stage level as Gent watched the game in comfort to top the group.
KAA Gent: Paul Nardi, Joseph Okomo, Michael Ngadio Ngadgui, Jordan Torunariga (Bruno Godot 46); Alessio Castro Montes, Sven Combs, Hong Hyun Suk (Andrew Wheel Case 67), Jens Peter Hauge; Vadis Odjidja-Ofoe (67), Hugo Kuipers, Malik Fofana (67)
Shamrock Rovers: Alan Manos; Sean Gannon, Dan Cleary, Lee Grace; Ronan Fenn (Neil Farrugia 75), Chris McCann (Sean Kavanagh 46), Gary O'Neill, Andy Lyons, Jack Byrne (Neil Farrugia 75), Dylan Watts (Aaron Green 66), Rory Gaffney (Graham Burke 75).
Rule: View of Kastrati (Kosovo).