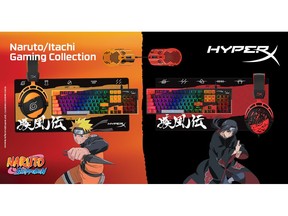 Article content
new Surround designs inspired by Itachi Uchiha and Naruto Uzumaki characters
Article content
FOUNTAIN VALLEY, CA – HyperX, the gaming peripherals team at HP Inc. The brand leader in gaming and esports, today announced the launch of a limited edition Naruto: Shippuden peripherals Collection. HyperX x Naruto: Shippuden Limited Edition Bundle Features Design elements inspired by Itachi Uchiha and Naruto Uzumaki. The gaming suite includes HyperX Alloy Origins mechanical gaming keyboard, HyperX Cloud Alpha gaming headset, HyperX Pulsefire Haste gaming mouse, and HyperX Pulsefire Mat gaming mousepad.
Article content
The limited-edition design features bold orange hues inspired by the legendary ninja Naruto Uzumaki and a dark red design inspired by Itachi Uchiha, a loyal member of Akatsuki. The new collection includes the stylish and durable HyperX Alloy Origins mechanical gaming keyboard with design elements inspired by Naruto or Itachi. Gamers can also enjoy immersive audio while embracing their inner ninja, or break new ground in the world of animation with their favorite HyperX Cloud Alpha gaming headset inspired by the character. Also available are the ultra-lightweight HyperX Pulsefire Haste gaming mouse and the durable yet ergonomic HyperX Pulsefire Mat gaming mouse pad, the new collection designed to elevate the gaming spaces of the Naruto and Itachi anime community.
"We are thrilled to introduce the first hyperX gamers anime collaboration as a special cross between games and anime with designs inspired by Naruto: Shippuden," said Jennifer Ishii, Category Manager for Keyboards and Mice, HyperX. "With designs featuring Naruto and Itachi, players can proudly showcase their anime fan base."
The limited edition HyperX x Naruto: Shippuden game collection will be available for purchase on September 21 at 9:00 AM PDT. More information about the new HyperX x Naruto: Shippuden Game Collection products, including:
HyperX Alloy Origins mechanical gaming keyboard: Built with HyperX switches, the HyperX Alloy Origins mechanical keyboard features exposed RGB backlit keys for brighter lighting with radiant lighting effects and five adjustable brightness levels for enhanced gaming. The keyboard features an aluminum body with an air-grade brushed finish for durability and stability, plus a space-saving design to maximize desktop space and provide optimal mouse movement. Alloy Origins keyboards come with HyperX NGENUITY software with advanced customization features for lighting and macros, including simple customizable lighting effects for each key. The USB Type-C to A keyboard cable is also detachable.
HyperX Cloud Alpha Gaming Headset: Cloud Alpha offers HyperX Dual Chamber technology for better sound and less distortion. With 50mm drivers, the HyperX's dual chamber design allows for bass frequencies separated from the mid and high frequencies, creating dynamic sound that makes games, music and movies more realistic and immersive. Also, the headset features signature HyperX comfort with high-quality memory foam and soft leather, and provides unparalleled fit and comfort for extended gaming sessions.
HyperX Pulsefire Haste Gaming Mouse: Weighing in at 59g, the Pulsefire Haste with a hexagonal honeycomb shell design is extremely lightweight, provides faster movements and increased ventilation. The Pulsefire Haste is designed to meet the needs of gamers looking for an ultra-lightweight mouse, providing the ultimate in comfort and control. The mouse is designed with a premium grade PTFE low-friction skateboard for easy gliding and uses a HyperFlex USB cable with ultra-light and flexible paracord material to reduce stress and resistance to facilitate mouse movements.
HyperX Pulsefire Mat XL Gaming Mouse Pad: The HyperX Pulsefire Mat Gaming Mouse Pad is engineered for durability and precision tracking with a highly improved surface and abrasion-resistant stitching. With an anti-slip rubber underside and ergonomic padding, the gaming mat is designed to enhance play and comfort. The flat surface provides a smooth and consistent mouse glide and is rolled up for easy portability.
Article content
Availability
New products will be available September 21st at 9:00 AM PT:
Prices on HyperX.com are subject to change without notice.
Due to the current situation of COVID-19, HyperX may experience some product and shipping delays. HyperX takes all possible measures to work with partners to minimize the impact on its customers and ensure product availability and timely delivery.
Specifications of HyperX Alloy Origins Mechanical Gaming Keyboard

piece number

Itachi Edition: 683M1AA

Naruto Edition: 67J25AA

keyboard

converts

Hyper X Switch

Writes

Mechanical

the background

RGB (16,777,216 colors)

light effects

RGB lighting per key1 and 5 brightness levels

Onboard memory

3 features

connection type

USB Type C

anti shadows

100% anti-ghosting

pass key

N . key mode

LED indicator

yes

media control

yes

game type

yes

OS compatibility

Windows® 10, 8.1, 8, 7

switches

converts

Hyper X Red Switch

Operation method

linear

Operating power

45 grams

Main travel distance

1.8 mm

total travel

3.8 mm

Lifetime (keystrokes)

80 million

cable

Writes

USB Type C to A Detachable, Braided

Length

1.8m

Dimensions

Show

442.5 mm

Depth

132.5 mm

to rise

36.39mm

Weight (keyboard and cable)

1075g

HyperX Cloud Alpha Gaming Headset Specifications

piece number

Itachi Edition: 683M2AA

Naruto Edition: 67J24AA

Headphone specifications

driver

Custom dynamic, 50mm with neodymium magnet

form factor

Over the ear, circumferential, closed back

Frequency response

13Hz–27kHz

Impedance

65 oh

sensitive

98dBSPL/mW at 1 kHz

THD

<1%

Frame type

Aluminium

ear cushions

Memory foam and premium leather

microphone Determine

an item

Electret condenser microphone

polar pattern

Bi-directional, noise canceling

Frequency response

50 Hz – 18 kHz

sensitive

-43 dB (0 dB = 1 V/Pa, 1 kHz)

Connections and Features

Voice call

3.5 mm wired (4 CTIA poles)

sound controls

In-line audio controls

physical specifications

Weight

298 grams

Weight with microphone

336g

Cable length(s) and type(s)

Detachable 1.3m headphone cable, 2m computer extension cable

HyperX Pulsefire Haste . Gaming Mouse Specifications

piece number

Itachi Edition: 683M3AA

Naruto Edition: 67J23AA

Mouse Specifications

appearance

symmetric

sensor

PixArt PAW3335

the decision

up to 16,000 dpi

DPI Presets

400/800/1600/3200 dpi

Speed

450 IPS

acceleration

40 grams

buttons

6

Left / Right Button Switches

Dustproof Mini Gold TTC Switch

Left / Right Button Durability

60 million clicks

light effects

Lighting for both LED RGB1

Onboard memory

single profile

connection type

USB-A 2.0

polling rate

1000 Hz

Ski materials

Virgin grade PTFE

physical specifications

Length

124.2 mm

to rise

38.2 mm

Show

66.8 mm

Weight (without cable)

59 grams

Weight (with cable)

80 grams

cable type

USB Hyperflex cable

Length of the wire

1.8m

HyperX Pulsefire Mat الألعاب Gaming Mouse Pad Specifications

piece number

Itachi Edition: 683M4AA

Naruto Edition: 67J22AA

physical specifications

Material

stretch fabric

size

XL

thickness

4 mm

Show

900 mm

Length

420 mm
Article content
1RGB lighting can be customized for each key using HyperX NGENUITY software
About HyperX
For 20 years, HyperX's mission has been to develop gaming solutions for every type of gamer, and the company is known for consistently delivering products that deliver superior comfort, aesthetics, performance, and reliability. Under the motto of "WE'RE ALL GAMERS" HyperX headphones, keyboards, mouse, USB microphones and console accessories are the choice of casual gamers as well as celebrity ambassadors, pro gamers, tech enthusiasts and overclockers worldwide as they meet the most stringent product specifications and tailored With components that are the best in its class. For more information, please go to www.hyperx.com.
About HP
HP Inc. is a technology company that believes that one thoughtful idea has the power to change the world. Its range of products and services from personal systems, printers, and 3D printing solutions help bring these ideas to life. visit http://www.hp.com.
Editor's Note: For additional information or executive interviews, please contact Mark Tekunoff, HP Inc., 17600 Newhope Street, Fountain Valley, CA USA 92708, 714-438-2791 (Voice) or mark.tekunoff@hyperx.com. Press photos can be found in the press room over here.
HyperX and the HyperX logo are either registered trademarks or trademarks of HP Inc. in the United States and/or other countries. All trademarks and registered trademarks are the property of their respective owners.
View source version on businesswire.com:
Contacts
Mark Tikonov
HyperX
714-438-2791
mark.tekunoff@hyperx.com
Diana Gomez
Walt & Company HyperX
530-249-4955
dgomez@walt.com