The first game in the new Graham Rowntree era left Munster fans with a lot of ideas.
There were some good things, some bad things, and some totally ugly things as the men in red lost to Cardiff in the URC opener last weekend.
Former Ireland, Melbourne Rebels, performance analyst and coach Kintetsu Liners, Eoin Toolan joins Murray Kinsella on today's episode of The42 Rugby Weekly Extra – Podcast available for members of The42 Every Monday and Wednesday – to dig deeper into Monster's performance.
Toulan picked out some encouraging signs at Monster Screen but highlighted some key areas where Rowntree's men need to improve quickly. One aspect that caught his eye was their tackle work as Monster received three attempts, which would frustrate new defense coach Dennis Lemmy.
"I thought there was a specific intent from a defensive perspective," Toulan said.
"You can see the effect the Leinster environment had on Leamy, the defensive work rate in two to either double the contact or have one player, one jackal and press there.
"So you can see the early signs in terms of defensive intent but I think what they are going to want to get rid of from their game is the amount of missed tackles. There were 13 missed tackles after 27 minutes and a lot of those were players in good positions looking to take the ball but they bounced back. of contacts without sticking blows.
"Cardiff's first attempt reflects that where Cardiff's center runs into a little gap, there's footwork and Finn Witcherley is the one making the tackle but not hitting hard, not completing the tackle on the floor. The ball carrier gets up and goes again, this is Cardiff's first attempt.
"I think something Leamy will focus on in training this week is having a really strong connection but holding on after the connection and not letting these ball carriers bounce freely.
Source: Ben Brady / INPHO
"It's also ambiguous in the law because I have certainly seen ball carriers being penalized for making contact with the ground and not being released. There hasn't been a clear release of the Cardiff player so it's a fracture, but I think the intent of the Monster players and why so many of these stats come as missed tackles is They did not complete the intervention to the fullest extent."
Likewise, there were disappointing elements in Monster's performance for new offensive coach Mike Prendergast, most notably their inability to strike successfully from opponents.
"Executing Monster in Phase 1 would be a huge disappointment to Prendergast," Toulan said.
"There was a lot of inaccuracy in Monster's firings, whether it was basic pickup skills, running lines, or those widespread malfunctions. I counted nine transformations from the first or second stage's organized attack.
"This deprived Monster of any ability to get into organized attack patterns because they were generally coughing the ball up. Malakai Fekitoa had a debut that he wanted to forget, he had already made some uncharacteristic mistakes. It would take a while to get to grips with him and Chris Farrell. Those seemed The 9 to 12 to 10 play that was played outside is really sticky and heavy, not a lot of fluid for them.
"I thought Buddy Patterson struggled on the inside, starting with the nine in terms of passing accuracy. This was an area of ​​the game that needed to be worked on.
"This turnovers really cost Monster. You think Monster rolls the ball through a scrum roll play and they don't get their target right on the crash and Cardiff does a good job of forcing a spin.
"Far from that, Cardiff scored the decisive attempt of the game and this comes directly from Monster's organized attack and lack of accuracy that was the subject of the game."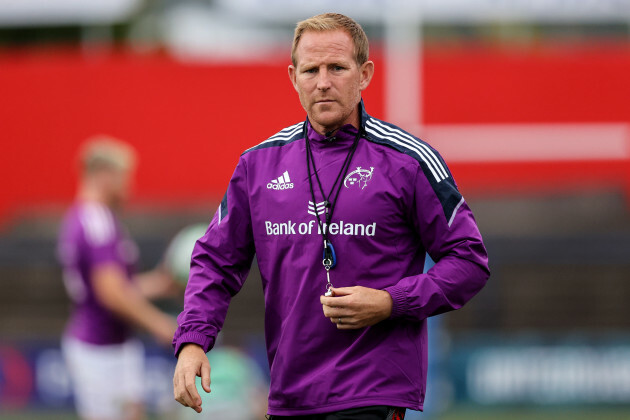 Monster attack coach Mike Prendergast.

Source: Ben Brady / INPHO
The mention of Monster center pair Malakai Fekitoa and Chris Farrell was intriguing given that new signing Antoine Frisch made an impact off the bench and paired well with Fekitoa on several occasions.
Fresh will now be heading with Emerging Ireland on their tour of South Africa, but will be back to challenge the more famous duo over a starting spot in Münster. Rory Scannell and Dan Goggin provide more midfield options.
"It's hard to be so tough with Farrell because a lot of the source of the problems was Fiquito," Tolan said of the centers.
"Even when they're running 9-12-10 out of back play Farrell's pass is good but if you see Vequetoa's running streak, he's actually running away from Farrell while the space is the skinny streak behind 13.
"It was a combination that didn't immediately click and there's excitement around Antonine Frisch. It will be interesting to see those combinations once again of first-choice Monster players back in the fold.
"But yeah, between Fekitoa and Frisch it was exciting, they have that movement on the line and the ability to make things happen out of nothing. It will be interesting to see how Prendergast anticipates his favorite partnership at the center."
To access The42 Rugby Weekly Extra, released every Monday with Gavan Casey, Bernard Jackman and Murray Kinsella, as well as every Wednesday with Eoin Toolan, become a member of The42 at Members.
This article was originally published at 3 p.m.
!function(f,b,e,v,n,t,s) {if(f.fbq)return;n=f.fbq=function(){n.callMethod? n.callMethod.apply(n,arguments):n.queue.push(arguments)}; if(!f._fbq)f._fbq=n;n.push=n;n.loaded=!0;n.version='2.0'; n.queue=[];t=b.createElement(e);t.async=!0; t.src=v;s=b.getElementsByTagName(e)[0]; s.parentNode.insertBefore(t,s)}(window, document,'script', '
(function () {
function consentYes() { fbq('consent', 'grant'); }
function consentNo() { fbq('consent', 'revoke'); }
function boot() {
var consent = CookieConsentRepository.fetch(); if (consent.targeting) { consentYes(); } else { consentNo(); }
fbq('init', '417668522941443'); fbq('track', 'PageView');
CookieConsentListener.onTargetingConsentChange(function(hasTargetingConsent) { if (hasTargetingConsent) { consentYes(); return; } consentNo(); }); }
boot();
})();