Robbie Brady's impressive pre-season performance for new club Preston led to the Republic of Ireland being called up for Nations League matches against Scotland and Armenia later this month.
The 30-year-old left player has not participated in the Republic's squad since March last year amid conflicts at the club level.
However, he has made six appearances for his new club this season.
Andrew Umubamidele and Callum Ododa are also back, but goalkeeper Kawimhen Kelleher has been left out due to injury.
Brady memorably scored Republic's last-gasp winner in the win over Italy at Euro 2016, but was without a club in the early months of last season after being released by Burnley, before joining Bournemouth as a free agent in October.
He made six appearances for Cherries as they won promotion to the Premier League but was unable to add 57 caps to him during his time with the club.
Brady's "absolutely well deserved" comeback
Director Stephen Kenny said that Brady's return was "on absolute merit".
"He is not there because we admire him as a player and the talent he has, but he plays because of his performance with Preston," the Republic coach added.
Norwich's 20-year-old Umubamidil made a very impressive start to his career, but injury has kept him out of international action since he played for Stephen Kenny's side against Luxembourg last November.
O'Dowda's last game for the Republic was in November 2020, but he's reclaimed it after performing well this season for new club Cardiff City.
Offensive options also include Swansea's Michael Obafemi, who starred in the 3-0 win over Scotland in June, and Rotherham's Chidose Ogbini, who has also impressed in the Nations League campaign so far.
Obafemi has not played for Swansea since the move to Burnley missed the transfer deadline, having played in his first six games this season.
Brighton striker Aaron Connolly, who was loaned for a full season at Italian club Venice, was ruled out again by Kenny and instead was included in the Republic of Ireland's Under-21 squad for the European Championship playoff against Israel at a later date. This month.
Connolly, who has eight senior caps, is now 22 years old but is still eligible to join the Under-21 team.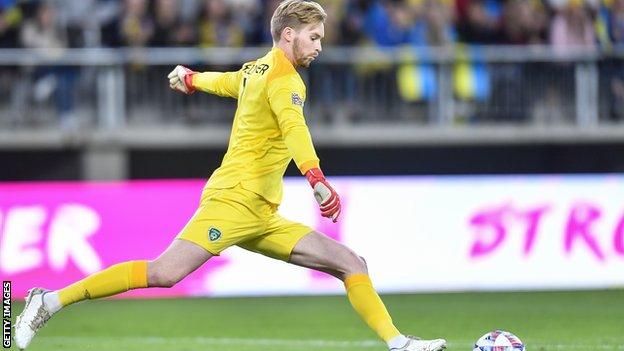 Liverpool goalkeeper Kelleher suffered a thigh injury in the republic's last match against Ukraine in the Nations League in June, and the injury worsened in the pre-season.
Jurgen Klopp was critical of the Republic's medical formation after Keeler's loss at the start of the Premier League season, but Kenny reiterated not to blame any of his staff.
"He trained with Liverpool when he got back to the pre-season and got injured, but it was definitely something we weren't aware of."
Norwich striker Adam Idah (knee) and Sheffield United defender Enda Stevens (calf) are also missing through injury.
The Republic faces Scotland at Hampden Park on September 24 before the home game against Armenia three days later.
Ireland's Kenny are third in Group B1 after collecting four points from their first four matches, leaving them three points behind leaders Ukraine, who have played a game less, and two points behind Scotland, who also have a game in hand on the Irish.
Armenia stunned the Republic in its opening group match on 4 June but lost three consecutive matches.
The Republic of Ireland squad
goalkeepers: Pazono (Southampton), Travers (Bournemouth), O'Leary (Bristol City)
Defenders: Coleman (Everton), Doherty (Tottenham), Duffy (Fulham, on loan from Brighton), Eagan (Sheffield United), Collins (Wolves), Oumupamidel (Norwich), O'Shea (West Brom), McLean (Wigan), Brady. (Preston)
Midfielders: Colin (Burnley), Hendrik (Reading), Knight (Derby), Brown (Preston), Mullombi (West Promicino), Hourihan (Derby), Oda (Cardiff).
Attackers: Ogbeni (Rotherham), Obafemi (Swansea), Parrott (Preston, on loan from Tottenham), Robinson (Cardiff), Hogan (Birmingham).